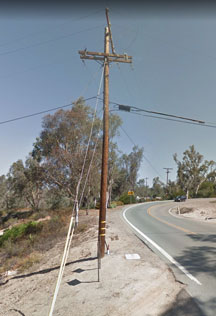 Power poles are unsightly, dangerous and unreliable compared to undergrounded facilities. But they are cheaper to install, which is why utilities continue to use them.
When building new subdivisions, builders pay the extra money to underground all their utilities, and the cost for this is built into the new house price.
Here in Rancho Santa Fe, we are left to deal with utility infrastructure that was initially built and planned in 1929, which is why we have so many overhead poles. However, utilities can be upgraded. As with natural gas and sewer hookups, it is up to existing homeowners to build out their own utility instrastructure if they want improved utility access. Several stretches of power lines have successfully been undergrounded in past years. However, it isn't a cheap project, and the affected homeowners will have to pay for the cost.
Listed here are several different ways to underground your electrical poles.
Option 1: Just Do It
Get together with your neighbors and decide to pay for the undergrounding. Similar to the process of canvessing neighbors for a sewer or natural gas main extension, you need to find out who along a proposed route would be willing to pay for the undergrounding. Not all neighbors may agree to pay, in which case the payers will be paying for those not willing to pay.
Option 2: Form an Assessment District
In 2010, the RSF Association and the RSF Community Services District put together a procedure that allows homeowners to band together to form an assessment district for the purposes of undergrounding utilities. A district captain (that would be you) canvasses his neighbors along a particular route. If he can convince at least half of the homeowners to pay for the undergrounding through a formal vote, then an assessment district can be formed that would force all homeowners along the route to pay for the undergrounding. These mandatory assessments could be paid in a lump sum or over a period of time.
Click here to download a PDF describing the CSD assessment districts and the process to create one.
Option 3: Wait for Govermental Action
While there are public pots of money to pay for underground conversions, only certain projects qualify. Click here to read some historical information about the last time the RSF Association explored undergrounding options. The pdf describes options for public money as well as what happened when an attempt was made to underground utilities in some areas. The PDF includes the results of an undergrounding survey.
So, No More Poles?
Be aware that undergrounding electrical service will eliminate power conductors from the tops of the poles. But the poles could and probably do also carry telecom cables (phone, cable, and fiber optic for the cellular distributed antenna system). Undergrounding those utilities is a separate process. Hopefully the Association's RSF Connect fiber network will eventually obsolete the copper cables used for phone and cable TV.