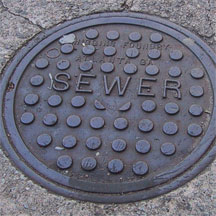 Connecting to a sewer main provides many benefits over maintaining a septic tank. These include:
Eliminates bi-yearly visits from the septic tank pumper.
No worries about leach fields or seepage pits failing. It is maintenance free.
Allows you to reclaim leach field property to do something else with.
Increases property value.
As with other utilities, only some parts of RSF have a sewer main running down their street. You can contact the Rancho Santa Fe Community Services District to see if a sewer main is near you. They maintain the sewer system in RSF.
Click here to download a map showing where the sewer mains are in RSF.
Even if sewer is not available in your street, it might be possible to build a sewer main extension so that you and your neighbors could access it.
Click here to download a document that describes the process of either connecting to a sewer main in your street, or to build a main line extension.