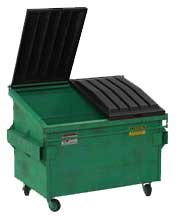 There are two companies that provide trash hauling services in Rancho Santa Fe. Waste Management and Edco.
Both Edco and Waste Management provides both small garbage bin pickup and dumpsters (starting at the small apartment sized 3-yard units).
Waste Management requires you to sign a contract with the following provisions:
3 year term.
Can only cancel in the 6 month to 3 month window before contract expiry or else contract auto renews.
Must mail them a certified letter to cancel.
They can (and do) adjust their rates upwards with no recourse (you are locked in).
Edco's business practices:
No contract, can cancel, add/remove capacity at any time.
Small company, easy to work with.
Competitive prices.